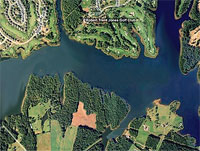 When: Monday, Dec. 7, 5:30 p.m.


Where: Manassas City Hall, 9027 Center St., Manassas


The Manassas City Council is holding a
special work session
to discuss opportunities to open Lake Manassas to the public.
Government staff and the Virginia Dept. of Game & Inland Fisheries have been working on a proposal to open Lake Manassas for public fishing, boating (no gas engines) and the quiet enjoyment of the scenic landscape.

Under the current proposal, Game & Inland Fisheries would assume responsibilities for managing surveys, stocking the lake and law enforcement. They would also construct a low-impact gravel parking lot, boat ramp and finger pier for launching and retrieving boats.

The City of Manassas has two options. Under the first scenario, public access to Lake Manassas would be unrestricted, open without registration or fees (except your fishing license).


This open-access approach is successful at other Virginia reservoirs, including the Occoquan Reservoir in Prince William, Beaverdam Creek Reservoir in Loudoun, the Abel and Smith Reservoirs in Stafford, Mountain Run and Lake Pelham Reservoirs in Culpeper.
The City's other option is to place a modular or other structure at the site and contract with local business to manage a concession and collect fees, if imposed. Public access points would be opened at sunup and closed at sundown.

The 800-acre Lake Manassas has been closed to the public for many years. Good fishing spots are few and far between. Lake Manassas would be a welcome addition appreciated by wildlife watchers, paddlers and fishermen alike.

More information will be provided at the City Council's December 7 worksession. Plan to attend – you'll hear the latest information and, most important of all, let Councilmen know that opening Lake Manassas to the public is important to you.