IN THIS ISSUE

Conservation is a state of harmony between men and land. —Aldo Leopold
Act Locally
Please consider making a donation
to support this e-newsletter, conservation activities, Bluebird Trails and other stewardship opportunities in Prince William County.
Trees are major capital assets that provide local benefits and need local protection.
Trees increase property values, help reduce utility bills, protect water quality, help recharge groundwater and prevent erosion.
Trees clean our air, reduce noise pollution and make a significant contribution to the scenic quality of Prince William.
Trees increase property values and reduce electric bills.
A recent USDA study calculated that trees added 18% to the average sale price of a home in an upstate New York suburb.
Properly placed trees can reduce cooling costs by as much as 30%.
Trees convey an atmosphere of health and well being, help attract high quality commercial development and enhance the County's economic stability.
Besides reducing energy consumption, trees improve air quality by absorbing carbon dioxide and other pollutants.
A single acre of trees absorbs enough carbon dioxide over one year to offset the amount produced by driving a car 26,000 miles.
In Prince William County, if every person planted just one tree, we could reduce the amount of carbon dioxide in the atmosphere by over 4 million pounds every year.
Trees absorb pollutants and slow the velocity of stormwater runoff before it hits our creeks, helping keep our drinking water clean.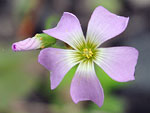 When: Thursday, May 6, 7:30 pm
Where: Bull Run Unitarian Church, 9350 Main Street, Manassas
Speaker - Charles Smith, Natural Resource Manager, Fairfax County Park Authority
Able to thrive in suburban landscapes and released from hunting pressure, white-tail deer pose a significant threat to our remaining natural areas by over browsing - eliminating hundreds of native plant and animal species.
White-tail deer management is often a polarizing issue driven more by emotion than logic. Come hear naturalist Charles Smith speak about the science as well as the politics behind the issues of managing white-tail deer.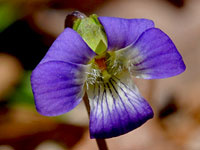 Federal, state and local decision-makers discuss the challenges and opportunities
When: Monday, May 17 - doors open at 7:00 pm; program begins at 7:30 pm
Where: McCoart Government Center, Board Chambers, Prince William Parkway
Learn about the ecological and financial benefits of land conservation for individuals and communities.
Opening Remarks:
Congressman Gerry Connolly, 11th Congressional District
Supervisor Mike May, Vice-Chairman, PWC Board of Supervisors
Robert Davenport, Board Director, Virginia Land Conservation Foundation
Presentations:
Bob Lee, Executive Director, Virginia Outdoor Foundation
Sara Richardson, Land Conservation Coordinator, Virginia Dept. of Conservation and Recreation
Q&A and Community Discussion with all speakers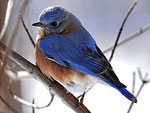 We have 15 nesting boxes at Merrimac Farm. Volunteers check the boxes twice a week to ensure safe, healthy conditions and collect data on what's happening along the Bluebird Trail.
To date, Bluebirds have laid 17 eggs and 10 have hatched. We should have fledgling Bluebirds very soon. A pair of House Sparrows is attempting to take over one box.
This is a concern because House Sparrows are notorious for killing Bluebirds and their young... so twice a week volunteers evict these pesky birds, keeping the trail safe for Bluebirds and other native cavity-nesters.
At Chinn Park, the Bluebird Trail has produced 8 new Bluebirds with more eggs yet to hatch. Chickadees and Tufted Titmice have moved into two boxes, with 9 young that will fledge soon. So far there's no sign of House Sparrows problems at Chinn Park.
When you visit Merrimac Farm or Chinn Park, please remember that nesting boxes are more visible to predators than natural cavities so some extra precautions are in order. Walking up to the nesting box leaves a scent that can attract predators, noise and rapid movements can startle birds.
We appreciate your help to make sure the Bluebirds and other cavity nesters using these boxes to raise their young are not disturbed.
Click here to read more about Bluebird Trails at Merrimac Farm here Chinn Park.
Update on PWC Environmental Policies Update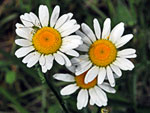 Planning Commission Schedules Work Session with Environmental & Civic Groups
When: Wednesday, May 12, 6:30 pm
Where: McCoart Government Center, Powell's Creek Conference Room
With a diverse landscape that includes both a tidal shoreline and a mountain, Prince William County's remarkably rich natural resources create a sense of place that is unique within Northern Virginia.
For years the County has evaded the reality that a degraded environment is not just aesthetically unattractive, it requires taxpayer funds to fix. Now is the time to make the environment a priority in Prince William.
The Environment Chapter sets the County's policies for new development, capital improvement investments and taxpayer-funded fixes. It covers a range of environmental issues, including stormwater, clearcutting, wetlands, streams, unstable slopes and more.
Developers know the Environment Chapter is important, they are hard at work lobbying Supervisors and staff for more "flexibility." Claiming to represent the business community, developers say protecting the environment and attracting commercial development are mutually exclusive… we can't have both.
The non-developer business community has a different view. Small business owners rank open space and parkland as their highest priority in choosing a new location for their company. Corporate CEOs say that quality of life is the third most important factor they consider in locating a business. They recognize that communities with a healthy network of natural open space are more livable and desirable.
Is an attractive, sustainable community important to you? For homeowners and taxpayers who are tired of paying for quick fixes after the fact, the Environment Chapter is action central.
Share your views with decision-makers early and often. After years of ignoring environmental needs, it's clear that significant community support is needed to prioritize environmental sustainability in Prince William County.
Click
here
to read more and access links to the current proposals.