Featherstone National Wildlife Refuge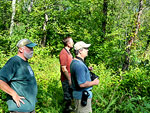 The Potomac River Refuge Complex, owned and managed by the U.S. Fish & Wildlife Service (FWS), includes three national wildlife refuges: Occoquan Bay, Mason Neck and Featherstone.
All three protect valuable wildlife habitat in Northern Virginia but only two are open to the public for wildlife-dependent activities, including birding, photography and environmental education.
Established in 1970, just one year after Mason Neck was protected, the Featherstone Refuge has remained closed to the public for 40 years.
A Comprehensive Conservation Plan is the first step to opening the Featherstone Refuge. The draft plan, originally scheduled for public review in April 2008, is now slated for release this month, September 2010.
In a July 2010 letter to the FWS, Congressman Gerry Connolly called for immediate action, saying, "This Refuge is owned by all Americans and they should have access to it now."
On September 9, Virginia conservation organizations sent a joint letter to the FWS supporting opening this Refuge for public wildlife-dependent uses. The letter also covers issues associated with current conditions as well as needs to ensure the long-term preservation of the unique wildlife habitats protected by the Featherstone Refuge.
Click here more information, and here to view photos from PWCAs 2010 tours of the Featherstone National Wildlife Refuge. Our next tour is scheduled for Saturday, November 6.
New Environmental Policies for PWC
What: Join PWCA for dinner and discussion of PWC environmental policies, issues and opportunities

When: Wednesday, Sept. 29, beginning at 6:30 pm

Where: Ruby Tuesday's, 12721 Marblestone Drive (across from the McCoart Government Center)
RSVP: Appreciated to 703-499-4954 or alliance@pwconserve.org. Ruby Tuesday's will make arrangements for us if we let them know about how many people to expect in advance.
PWC Supervisors were originally scheduled to vote on the draft Environment Chapter of the Comprehensive Plan on Tuesday, October 5... however, that date has now been tentatively changed to October 26, giving developers more time to lobby for environmental standards that are more "flexible" than the Planning Commission's recommendation, approved on Sept. 14.
This important document sets the County's environmental policies, prioritizes budget expenditures and lays the groundwork for local efforts to comply with the upcoming federal standards needed to save the Chesapeake Bay.
PWCAs Board and members are getting together on Sept. 29th to share information and discuss the key issues, including developer concerns, potential loopholes and community benefits. We hope you can join us!
Manassas National Battlefield Park Naturally
PWCA 1st Thursday Speaker Series with Bryan Gorsira, Natural Resources Manager at Manassas National Battlefield Park
When: Thursday, October 7, 7:3 to 9:00 pm
Where: Bull Run Unitarian Church, 9350 Main Street, Manassas
Manassas National Battlefield Park is a historic site that also protects significant environmental resources and makes an important contribution to local and regional biodiversity.
The Battlefield is an Audubon Important Bird Area, selected based on quality habitats, including grasslands, and numerous bird species (54 confirmed breeders).
Come hear more about nature at the Battlefield. Learn about habitat management goals, share your exciting wildlife discoveries and enjoy good conversation with fellow nature lovers.
Volunteer! Occoquan Bay Refuge Fall Wildlife Festival
When: Saturday, October 9, from 9:00 am to 3:00 pm
Where: Occoquan Bay National Wildlife Refuge, 13950 Dawson Beach Rd., Woodbridge
With live animal programs, hands-on activities, exhibits on local flora and fauna, and naturalist-led tours of the Occoquan Bay Refuge, the Fall Wildlife Festival is a fun opportunity for families to enjoy the great outdoors.
PWCAs table features frogs, tadpoles, turtles and other critters that live in local ponds and wetlands. Every year we also host a planting activity, where visitors have the opportunity to help improve habitat conditions at a small pond on the Refuge.
Over the years we've planted monkey flower, pickerel weed, spatterdock, black willow and rushes around the bank of the pond. These attract butterflies, birds and other wildlife to the area and also improve conditions for aquatic wildlife.
We need volunteers who can help visitors plant this years selection of native plants and/or help staff our table display. It's lots of fun and a great way to meet new friends.
If you can help, please call us at 703-499-4954 or email alliance@pwconserve.org. Hope to see you at the Fall Wildlife Festival!