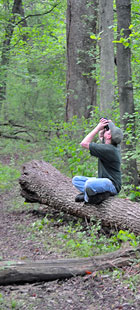 No more studies, no more promises, no more delays—it is time to enforce the Clean Water Act and take the bold, necessary steps to clean up the Bay.
~Gerald Winegrad
Tepid reaction to Virginia's Chesapeake Bay cleanup plan Bloomberg Business Week; November 20 2010
Richmond Times Dispatch; December 1 2010
Fredericksburg Free Lance Star; November 29 2010
Bay Action Plan; November 19 2010
Baltimore Sun; November 23 2010
ANNUAL BLUEBELL FESTIVAL AT MERRIMAC FARM Sunday, April 10, beginning at 10:00 am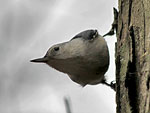 PWCA 1st Thursday Speaker Series
When: Tomorrow! Thursday, Nov. 2 at 7:30 pm
Where: Bull Run Unitarian Church, 9350 Main St., Manassas (parking is usually easy)
Speaker: Harry Glasgow, birding enthusiast who leads walks at assorted Northern Virginia wildlife areas, including Merrimac Farm.
Attracting wildlife to one's backyard is, in principle, a fairly easy task. In practice, however, it can get complicated, expensive and frustrating.
Join us tomorrow evening when Harry will talk about the elements of attracting birds to your backyard, while attempting to discourage unwanted species of wildlife. He will cover various bird feeder types, seeds and other foods specific to bird feeding, plantings to encourage birds, and methods to make the most of this very enjoyable pastime.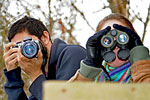 When: Monday, December 27, beginning at 7:00 am
Where: Birding groups meet at various locations within the co unt
RVSP: Contact Kim at 703-499-4954 or alliance@pwconserve.org
Now in its 111th year, the Christmas Bird Count (CBC) is the oldest and largest citizen science event in existence. The National Audubon Society leads the effort, compiles data nationwide and makes the results available to all on their website here.
The count area for the Nokesville CBC covers about 175 square miles. It extends from the Prince William County landfill on Route 234 to Nokesville Proper, and from the Lunga Reservoir near I-95 to Catlett in Fauquier County.
The count circle includes portions of Prince William Forest Park, Manassas Airport and large areas within MCB Quantico. Click
here
to view a map.
Everyone is welcome and there's several ways you can help. We can always use more birders. We also need help staffing the Stone House at Merrimac Farm so cold birders have a warm place to grab a bite and drop off their data.
We also appreciate permission for a group - two or three people with binoculars - to access private ponds and other privately owned areas where birds congregate.
If you can help, contact Kim at 703-499-4954 or alliance@pwconserve.org. It's an important project and a rewarding experience.
Read more...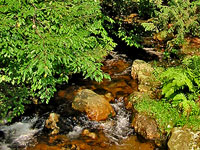 Yup, the state has invoked the magic words in its not-so-final Watershed Implementation Plan (WIP) on the Chesapeake Bay cleanup. Reducing our own pollution is not our responsibility; it's a "massive new unfunded mandate."
That claim by the Secretary of Natural Resources is 0-for-4. It certainly ain't "new." Since 1983, state officials have promised to reduce pollution flowing into the bay, and meet the Clean Water Act standards.
One governor promised to complete the task by 2000, then another promised to meet a 2010 deadline. Based on a court order, the Environmental Protection Agency (EPA) is now requiring states to put best management practices into place by 2025.
Even in 2025 (42 years after the first Chesapeake Bay Agreement), the bay won't meet water quality standards. If we take certain actions over the next 15 years, however, the water may become safe for fishing and swimming and aquatic life – sometime later.
If state/local officials had chosen to steer development away from forested areas and creeks over the last 20 years, the "massive" and "unfunded" adjectives would not be appropriate either. What's the opposite of slow, gradual, incremental improvement? Massive, and unfunded… because we did so little, for so long. Virginia has treated its responsibility to clean up the bay the way Congress has treated its responsibility to balance the budget – tomorrow, we'll start the diet.
As for "mandate" – when did cleaning up own own pollution become the responsibility of the Federal government?
It requires a strange sense of accountability to claim that pollution generated in Virginia is not Virginia's responsibility to correct. Maybe we can blame it on Kim Jong-il, or Mahmoud Ahmadinejad? We gotta send the cleanup bill to someone else, right? Hmm, who else might we blame… Read more on our blog
here
.