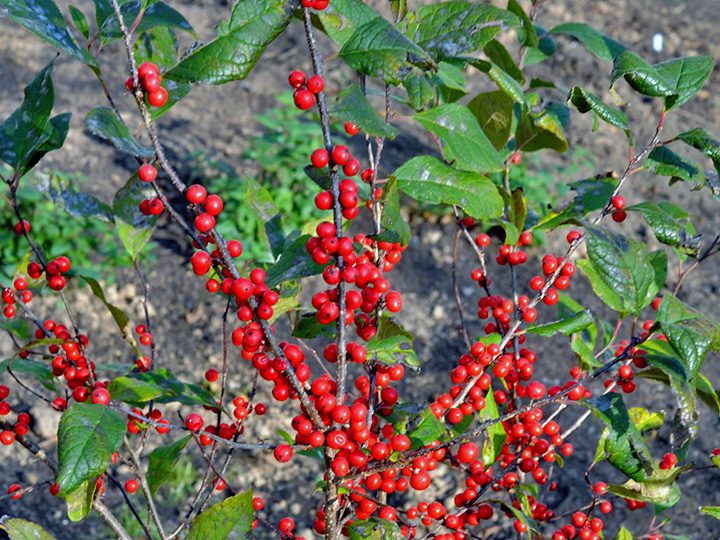 Photos

©

Kim Hosen; Merrimac Farm Wildlife Management Area, Nokesvile VA; October 2011 Text by Catherine A. Nugent
Winterberry


Ilex verticillata, Family, Aquifoliaceae
These beauties bring a bright pop of color and wildlife to your yard during the drab months of winter. They are very attractive planted in groups and can be used as hedges, borders, foundation planting, and to help control erosion.

Either male or female, both must be present to produce berries. One male of the same species planted within 40 feet can pollinate up to 10 females. Being a very slow growing shrub, at 40 year maturity it reaches 8 feet tall and are safe to plant under power lines. Foliage is dark green and from mid-fall to late winter females produce brilliant red berries on a branch with a dense multi-stemmed,oval shape.

Wildlife will eat the berries once other food sources are scarce, letting you enjoy the vibrant color through most of winter. Some animals include raccoons, white-footed mice, robins, songbirds, bluebirds, wood thrushes, mockingbirds, white-tailed sparrows, and catbirds. Youngattract deer to their foliage.

Plant during early autumn in full or partial sun, and in colder areas apply a thick layer of mulch around the roots during winter for protection. Though tolerant of standing water, they prefer moist to wet soil that is rich and acidic (pH 3.8 to 6.0). Pruning should be done in late winter after the coldest weather has passed or early spring. Note that these are suckering plants,meaning new plants can grow from the length of existing roots.