Moncure Wall Turner down-zoning Virginia Supreme Court decision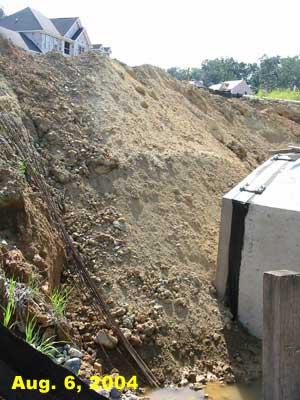 News Articles
County Unswayed by Developer's Plea; Supervisors Seek to Stop Construction That Damaged Pond in Triangle
Nikita Stewart , Washington Post; April 17 2005
Prince William County filed an injunction last week to halt construction of a 291-home development in Dumfries because of the developer's failure to control sediment runoff and erosion that neighbors say damaged a pond and causes flooding during heavy rains.
Prince William Charges Builder Over Muddy Pond [Stonewall Manor]
Nikita Stewart, Washington Post, April 8 2005
Prince William has charged Edgemoore Homes with 50 environmental violations, most for failure to control sediment runoff anderosion. During rainstorms, debris and dirt can be seen trickling down a hill and into the pond, which then overflows and floods streets in the area just a short distance from Quantico Creek, a tributary of the Potomac River . … Edgemoore's conduct has been unusual, [Acting County Attorney] Howard said. "Normally, we do not have that number of violations, and normally, we do not have them recurring without prompt action," he said.