Butterfly Lives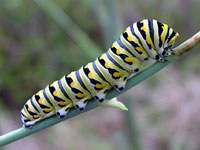 Butterflies go through four life stages: egg, caterpillar, pupa (chrysalis) and adult. Each stage of this process, called metamorphosis, is marked by distinct changes in the butterfly's appearance.
Butterflies lay their eggs on particular plants (host plants) that newly hatched caterpillars require for nourishment. While adult butterflies nectar on a wide variety of flower, caterpillars will feed on only a few, or even just one, plant species. A butterfly species' host plant is an essential part of its habitat.
When caterpillars hatch from the eggs, usually in less than a week, they first eat their eggshell and then begin eating the host plant. Caterpillars spend most of their time eating and growing, which involves shedding their skin three or four times in a process called molting.
Butterfly caterpillars come in a variety of shapes, sizes and colors. Wing patterns can help protect butterflies from birds, dragonflies, frogs and other predators. For example, swallowtail caterpillars look similar to bird droppings, while other species have large eyespots or spines to frighten predators. Some caterpillars hide in leaf shelters and emerge at night to feed. Even so, many are eaten by predators.
The pupa, or chrysalis, stage begins when the caterpillar has grown to full size. The caterpillar attaches itself to a support and surrounds itself with a hard outer shell called a chrysalis. Although the outside shows no signs of life, an amazing transformation from caterpillar to adult butterfly is taking place inside. This is a vulnerable time for butterflies and many are lost to predators at this stage of their development.
If everything goes well, including weather conditions, the butterfly will emerge from its chrysalis within a week or two. When the butterfly is formed, the chrysalis splits to allow the adult butterfly to emerge. This usually happens rapidly and oftenin the early morning. When the butterfly emerges, the wings are tightly folded. The butterfly must immediately pump blood into the veins of its wings to expand them. Then the wings must dry and harden before the butterfly can take flight.
Most butterflies will live about two weeks, but some species can live much longer. Butterflies are vulnerable at all stages of their lives. In addition to predators, butterflies contend with changing landscape conditions and an increasing pattern of vanishing habitats. Those that survive are a delight to observe and important to protect.