Bluebell Festival at Merrimac Farm
Sunday, April 9, 2017, from 10:00am to 4:00pm, directions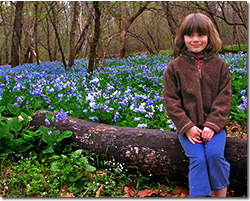 Please join us to welcome spring, celebrate nature close to home and meet local organizations and people who are working to improve our community. With some of the best Northern Virginia naturalists leading tours and activities, we're looking forward to a special day at an outstanding natural area.
2017 Tour Schedule
Tours last about 90 minutes and take an easy one-mile walk through the floodplain. Each tour has a special focus, although leaders also cover other interesting sights seen along the way. Bring binoculars, cameras and the kids!
10:20am
Dave Larson
PWCA
Birding the Bluebell Trail
10:40am
Ernie Sears
Conserve PW Today/PWCA
Visit the best places for photos with camera and guide
11:00 AM
Charlie Grymes
PWCA
The story of Merrimac Farm
11:20 AM
Charles Smith
VNPS/PWCA
Native Plants interaction with wildlife and role in the floodplain environment
11:40 AM
Bill Olson
Historic PW/PWCA
History in the woods at the Green Level Cemetery
12:00 PM
Larry Meade
Northern Virginia Bird Club
Things that fly -- Birds, butterflies and dragonflies
12:20 PM
Valerie Huelsman
PWC Forest Pest Management
Urban Forests and Pest Management
12:40 PM
Julie Flanagan
New Earth Photography
Native trees, forest ecosystems
1:00 PM
Kevin Parker
PWCA
A Home for Every Bird
1:20 PM
Tom Dombrowski
PWC Watershed Mgt.
Floodplain Wetland Values and Interactions
1:40 PM
Nancy Vehrs
VNPS/PWCA
Woodland wildflowers and other native plants
2:00 PM
Janis Stone
PWCA
Life Under Rocks and Logs and in the Soil
2:20 PM
Judy Gallagher
PWCA/VA Master Naturalists
Bees & other pollinators that make wildflowers possible
3:00 PM
Jim McGlone
VA Dept. of Forestry
Forest Ecosystems
3:30 PM
Harry Glasgow
PWCA
Birding the Bluebell Trail
Sponsored by Prince William Conservation Alliance and Virginia Dept. of Game & Inland Fisheries with support from Marine Corps Base Quantico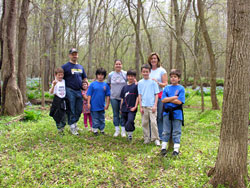 Appropriate attire for Merrimac Farm is always sturdy shoes and long pants, no matter the season. Tuck your pants into your socks to help keeps bugs out.
Click HERE to read more about Merrimac Farm.

Prince William Conservation Alliance
Meet critters living in locat ponds and wetlands, from insects to frogs.

Prince William Wildflower Society
Try your hand at orchid-gami! Discover more about the parts of flowers with a fun 3D model and pick up a NoVA Natives Guide.

Virginia Dept. of Game & Inland Fisheries
Discover mammal characteristics with skulls and pelts. Learn more about hunting in Virginia.

Bull Run Mountain Conservancy
Discover mountain ecosystems and meet local wildlife, from insects to mammals.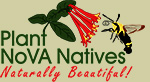 Pick up a native field guide!

MCB Quantico Natural Resources
With about 7,000 acres in the Coastal Plain and 52,000 acres in the Piedmont, Quantico covers diverse habitats. Learn more about their efforts to protect natural resources.

PWC Forest Pest Management
Meet a friendly snake and more while you learn about threats to our local forests and how you can help.

Prince William Soil & Water Conservation District
Learn how to Adopt a Stream or be a water quality monitor. Have fun with an interactive watershed model.

VCE PW Master Gardeners
Discover nature in your own back yard!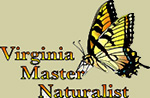 Learn about Prince William's local program

Learn about land preservation through conservation easements