Bluebell Festival at Merrimac Farm WMA
Cancelled in 2021 due to the COVID Pandemic, returning in 2022!
Merrimac Farm WMA is open to visitors who wish to view the beautiful Virginia Bluebells. PWCA will be at the front yard of the Stone House on April 9, 10, and 11 with a self-guided tour and nature bingo cards for fun with the kids.
Click here for directions to the Stone House at Merrimac Farm WMA. Click here to read more about Merrimac Farm WMA.
Rain Barrel Raffle keeps our spirits up!

Hand-painted 60-gallon rain barrel hand-painted by award winning artist James Gallagher. Tickets are 5 for $20, available online HERE!
While we miss the beauty and camaraderie of the Bluebell Festival at Merrimac Farm, we don't want to lose sight of our annual Rain Barrel raffle. Hand-painted by award winning artist James Gallagher, once again he's outdone himself with the best art ever.
Normally we spin the raffle barrel and randomly select the winning ticket at the Bluebell Festival, which was not an option this year. So in the spirit of perseverance, we're going to host the raffle online.
Tickets are sold in groups of 5 for $20. We'll pick the winner on Saturday, May 1, at 11am. Join us on Facebook Live!
Support PWCA activities at Merrimac Farm WMA and add a new dimension to your personal landscape! Proceeds benefit outdoor programs at Merrimac Farm, including the Wildlife Garden, Annual Butterfly Count, and Bluebell Festival. Please visit our raffle website to purchase tickets today or click here for more info.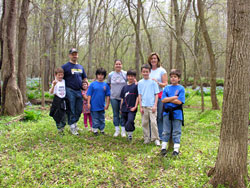 Appropriate attire for Merrimac Farm is always sturdy shoes and long pants, no matter the season. Tuck your pants into your socks to help keep bugs out.
The Bluebell Festival is sponsored by Prince William Conservation Alliance and Virginia Dept. of Game & Inland Fisheries with support from Marine Corps Base Quantico