Hop to It: Frogs & Other Amphibians of NoVA
When: Thursday, February 5, 7:30 pm
Where: Bull Run Unitarian Church, 9350 Main Street, Manassas
Alonso Abugattas, Long Branch Nature Center in Arlington, will share information about the most common species found in NoVA, their importance and what you can do to keep them around. We'll also have many live species on hand for you to meet up close and personal!
Although amphibians have been around or about 350 million years, their numbers have been dropping worldwide... a decline that's directly related to humans and our increasing influence on the environment. Virginia has 27 native species of frogs and toads. Of these, 13 can potentially be found in Northern Virginia. Join us on February 4 to find out more about these cool critters that live in our own backyard. This program is part of PWCAs First Thursday Nature Tales series. it is open to the public and free of charge. Click here for more information.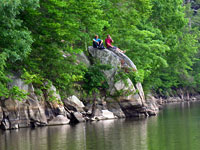 Green Plate Breakfast: From Your Backyard to the Bay, Creating Healthy Communities Close to Home
WHEN: Saturday, February 28 at 9:00 a.m.
WHERE: Wetland Studies & Solutions, 5300 Wellington Branch Drive, Gainesville
PROGRAM AGENDA:
Welcoming Remarks - Congressman Gerry Connolly, 11th Congressional District

From Your Backyard to the Bay - Charles Smith, Natural Resource Specialist, Fairfax County

Wrap Up - Occoquan District Supervisor Mike May, Prince William Conservation Alliance Board

Green Building Tour - Mike Rolband, President, Wetland Studies & Solutions
REGISTRATION REQUIRED:
PWCA Partners/Members - $25/person, $40/couple General Public - $30/person or $50/couple
To register, please mail your check and contact information to the Prince William Conservation Alliance at PO Box 6351, Woodbridge, VA 22195 OR click here to register online using our secure server.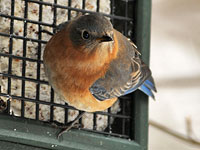 Training Date Scheduled for Bluebird Trail Volunteers
WHEN: Saturday, March 7, 10:00 to 11:30 a.m.
WHERE: Merrimac Farm Stone House, 15014 Deepwood Lane, Nokesville
You can help keep Bluebirds common and make a real difference in maintaining biodiversity. The newly established Bluebird Trail at Merrimac Farm needs volunteer monitors. Responsibilities include working with others to check the nesting boxes each week and gather data about what's happening at each box. No previous experience is required. Read more...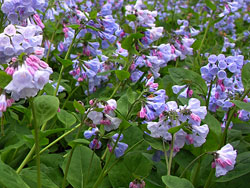 2nd Annual Bluebell Festival at Merrimac Farm
Save the Date!! Bring your family and friends to Merrimac Farm on Saturday, April 11, to welcome spring and view the spectacular display of Virginia Bluebells that carpet the floodplain along Cedar Run for nearly a mile.

Events include a nature art show and naturalist-led tours to Cedar Run, where everyone can learn more about the birds, butterflies, frogs and other wildlife at Merrimac Farm.

A variety of Northern Virginia environmental organizations will provide displays, including opportunities to meet turtles and other wildlife up close and personal, and activities for children of all ages in the front yard of the Stone House.

This event is sponsored by the Merrimac Farm WMA Conservation Partners: Prince William Conservation Alliance, Marine Corps Base Quantico and the Virginia Dept. of Game and Inland Fisheries. Read more about Virginia Bluebells at Merrimac Farm...
Volunteer - Greet Visitors at Merrimac Farm
Beginning in March, you can help open the Stone House at Merrimac Farm to visitors. We need volunteers to help staff the Stone House on weekends to greet visitors, provide information about trails and programs, and help develop educational displays.
Qualifications include a cheery personality and an interest in developing a working knowledge of Merrimac Farm habitats and wildlife.
A volunteer training session is scheduled for Saturday, March 14, from 10:00 to 11:30 a.m. Please email us at alliance@pwconserve.org for more information or to let us know you're coming. Read more...