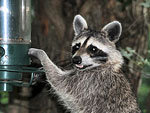 PWCA 1st Thursday Speaker Series
When: Thursday, June 3 at 7:30 pm
Where: Bull Run Unitarian Church,9350 Main Street, Manassas

Speaker: Julia Flanagan, Nature Photographer and PWC Arborist


Learn how normal suburban development affects native plant and animal populations... and how something as simple as "Going Native" in your backyard can make a significant difference.
Creating wildlife habitats with native plants improves the appearance of backyards and attracts a surprising variety of wildlife. Just a few days ago, a Southern Flying Squirrel and immature Barred Owl were sighted at dusk in a quarter-acre lot subdivision off Old Bridge Road.
Bring your success stories and questions! Julia's presentation is sure to generate an interesting and lively conversation.