Students Discover Nature Close to Home at Merrimac Farm!
Contact us at alliance@pwconserve.org or 703.499.4954 to find out how your school or community group can participate!
Click here to return to the Chesapeake Bay Field Study Program... click here to read more about Merrimac Farm.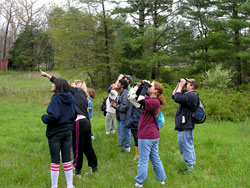 April 2008 - Marsteller Middle School seventh grade science students joined PWCA naturalists at Merrimac Farm to explore local habitats and wildlife.
Spring is an exciting time and Merrimac Farm is a great place to watch wildlife. During our April programs, we saw several species of frogs and some students were lucky enough to observe mating American Toads lay eggs in the pond. In all, our catch-and-release activity turned up 23 different animals in the pond. We also observed a variety of plants and animals in upland areas, and had a great time.
We collected information over three days - April 22 through 24. During this time, the heavy rains from April 20 and 21 moved out of the area, cloud cover cleared and temperatures were progressively warmer, reaching 75° by the 24th.