Possum Point Road - Quantico Creek Watershed
What Happens When Rules are Not Enforced

How We Got to this Point; June 2005

For the last five years the residents of Possum Point have seen the real-life effects of development gone wrong. Southbridge , a large flagship housing development, rezoned in stages by Legend properties and later sold to KSI, is located virtually in the backyards of Possum Point Road residents. Since the first trees were cleared on the site to make way for home construction on steep slopes and unstable soil, residents have been attempting to protect their homes from uncontrolled stormwater runoff.
The controversy over the Cherry Hill/Southbridge development began in 1999, when Legend Properties high-density plans for 1700 acres on Cherry Hill were made available to the public. Despite the serious problems created by construction of Legend's previously approved Southbridge/Swan Creek development plan for 17 acres between the Cherry Hill/Southbridge rezoning and homes on Possum Point road, Supervisors approved a high density development plan for the remaining 1700 acres in January 2001. Legend Properties later sold the land to KSI, who changed the name to Harbor Station and proposed modifications to the plan. The Prince William County Planning Commission approved significant changes to the original agreement without public input in December, 2004.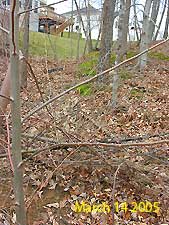 The initial development at the Southbridge/Swan Creek site caused problems along Possum Point Road. Steep slopes were cleared, unstable soils were cut-and-filled and excess soils were dumped behind the homes along Possum Point Road , filling in natural drainage ways and converting a gentle rise in the landscape into a steep heap of fill dirt.
Although the approved site plan called for terracing (benches) to help manage stormwater These radical changes to the landscape combined with inadequate engineering fixes resulted in significant problems for Possum Point homeowners. Uncontrolled stormwater from the Swann Creek site periodically washed out driveways, flooded basements, filled backyards with construction debris and flooded Possum Point Road to the point it became virtually impassable.
Conditions were dire and the developer was required to replace driveways and repair other property damage caused by the development activities. A culvert was hastily installed under Possum Point Road to allow the stormwater to flow under instead of over the road. However, the culvert activities did not follow appropriate approval requirements and it was soon apparent that this fix would not prevent flooding on Possum Point Road.
Back to top
Read more - Why Did Prince William County not require the developer to follow the approved site plan?